Disc Pain & Conditions Treated at Your Rancho Cucamonga Chiropractor
Your spinal discs are an important part of your spinal anatomy. While it's true they can act as shock absorbers, they're also important for providing mobility within the entire back and creating space for spinal nerves and blood vessels to travel in and around the spinal column. These discs are filled with a soft gel-like substance and surrounded by a tough outer layer made mostly of fibro-cartilage. It's these components which are susceptible to injury in certain people, and over time may lead to back pain in the cervical, thoracic, or lumbar region.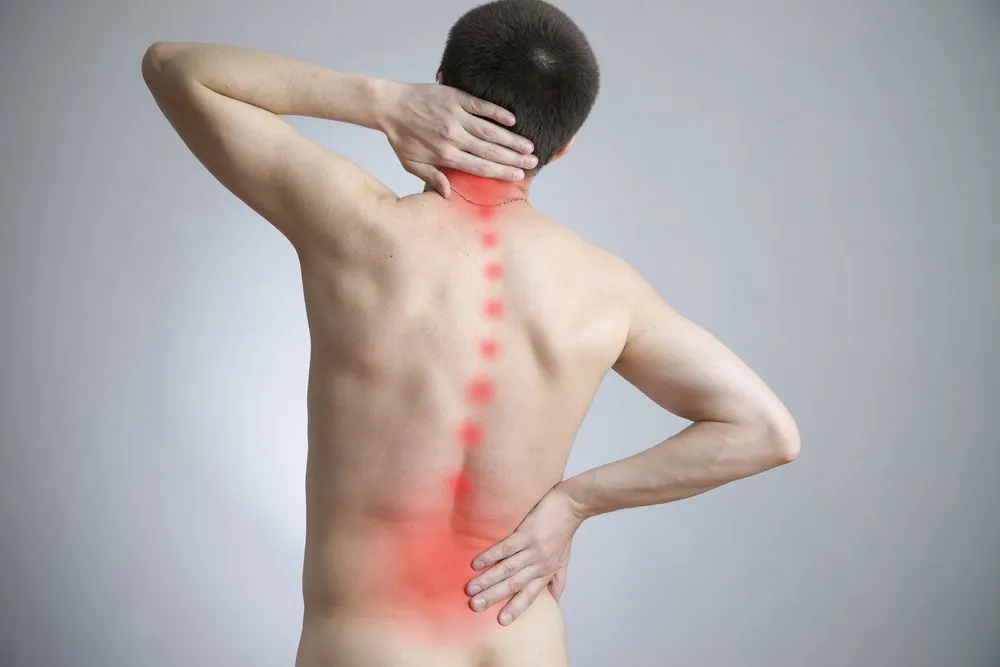 Common types of Disc Problems
The following are three of the most common disc disorders evaluated and treated at our chiropractic facility:
Bulging disc: if something (such as abnormal posture or pressure) causes the inner gel-like core to move or bulge out of place, this leads to a bulging disc. It can encroach on nearby structures such as nerves, muscles, ligaments, and joint surfaces, leading to back pain, back stiffness, and limb pain, numbness, and/or weakness (if a spinal nerve is impinged).
Herniated disc: often incorrectly called a "slipped disc," a herniated disc occurs when the inside gel-like substance actually leaks out through a tear in the disc's tough outer layer. This can lead to many of the same symptoms as a bulging disc.
Degenerative disk disease: thinning of the joint space between the vertebral joints due to thinning and breakdown of the discs as well as arthritic bony changes to the joints themselves. This can cause severe back pain and stiffness, and may present with bony spurs.
What Causes a Disc Problem?
While disc conditions can affect anyone, they tend to be more likely to occur in certain patient populations. This includes people who:
Are overweight
Are highly sedentary
Use incorrect body mechanics to lift something heavy or perform some other activity
Have a highly physical job
Smoke or have poor nutrition
Disc problems can also occur as a result of normal wear and tear in the spine as a person gets older. This is especially true for people with a history of lower back pain or injury.
How Our Rancho Cucamonga Chiropractor Diagnoses & Treats Disc Conditions
If you have back pain caused by a disc problem, our Rancho Cucamonga chiropractor can diagnose the underlying cause of your condition through a variety of tests, non-invasive procedures, and X-ray imaging. Contributing factors, such as poor posture, body mechanics, and nutrition, can be addressed through counseling and training, whereas specific symptoms can be relieved through a variety of our non-invasive treatments, including:
Spinal decompression, which creates negative pressure and helps realign/restore healing circulation to the injured disc (and injured spinal nerves, if there are any)
Corrective exercises, to promote a stable spine and maximize the strength and endurance of important postural muscles
Acupuncture, to trigger biochemically-mediated healing responses that help reduce swelling, inflammation, and pain
Get Relief with Our Chiropractor in Rancho Cucamonga!
In Dr. Christopher Ferraro, D.C.,, you'll find a chiropractor in Rancho Cucamonga who cares deeply about the health of your spine and all its working components. To schedule an appointment, learn more about your lower back pain, or ask about the comprehensive services we offer, contact the Spinal Health Center today by calling 909-980-1985. We also work with clients from Ontario, Fontana, Chino, Inland Empire. Ask us about our new patient special!