Natural Neck Pain Treatment in Rancho Cucamonga
If you'd rather experience natural neck pain treatment in Rancho Cucamonga than submit your neck for major surgery, you'll be happy to know that we can provide that treatment right here at Spinal Health Centers.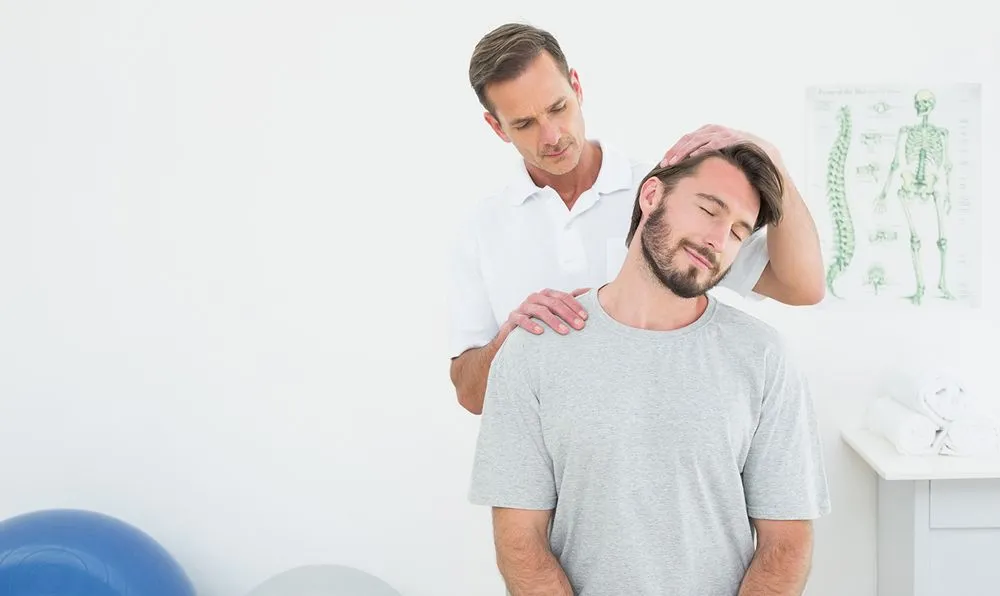 What's Causing That Pain in the Neck
Neck pain can take a bewildering, frustrating number of forms. Acute pain accompanies a specific injury or illness, which means that as the underlying complaint goes away, so does the pain. Chronic pain lasts at least 3 months after the healing of the underlying cause should have resolved it; it may also be constant or recurring due to an incurable problem. Neck pain can even be referred to/from another part of the body such as the shoulder. Your neck pain may be caused by:
Whiplash injuries - Whiplash is the result of your head being whipped back and forth by the forces of an auto accident or other major impact. Whiplash symptoms may include neck stiffness/pain, headaches, shoulder or jaw pain, vision/hearing abnormalities, and tingling or other problems in the upper extremities (cervical radiculopathy).
Repetitive motion injuries - Neck injuries may develop slowly over months or years as micro-tears in soft issues produce chronic inflammation and pain. Repetitive motions in your work or chosen sport can produce these kinds of injuries.
Chronic misalignment and/or poor posture - Even a tiny misalignment in your upper cervical spine can put continuous strain on your neck tissues, causing chronic pain. You can also inflict this strain on yourself by adopting poor postural habits. One common example is "text neck" from constantly tilting the head downward to consult a smartphone screen.
Cervical spinal degeneration - As your spine ages, the cervical vertebral structures may start to degenerate. For example, bulging discs, which have typically lost some of the height, can pinch nearby nerves even as the reduced space between vertebral inflames the vertebral joints. This situation can lead to cervical spinal arthritis. You may also start having neck pain if your cervical vertebrae shift their position (spondylolisthesis) and/or provide insufficient free space for spinal nerve tissues (stenosis).
Solutions from Our Rancho Cucamonga Chiropractor
Our Rancho Cucamonga chiropractor, Dr. Ferraro, can find the underlying damage or misalignment that's causing your suffering. Once we've pinpointed the problem, we can relieve whiplash symptoms or manage chronic discomfort without surgical intervention. A chiropractic adjustment can correct the relationship between your skull and your upper neck while restoring normal joint alignment. Spinal decompression can treat disc-related pain by drawing bulging discs back into place and re-hydrating them. Massage and acupuncture can both relieve neck pain and inflammation without drugs while accelerating the healing of damaged tissue. Our Rancho Cucamonga chiropractor can even prescribe rehabilitative exercises and lifestyle recommendations for a healthier neck.
You have the power to win your battle against neck pain -- with the right expert assistance. Contact our chiropractor in Rancho Cucamonga at (909) 980-1985 today!